Getting around in Halifax
Getting around Halifax is easy. You can drive a car, take the bus, hop on a ferry, ride a bike, take a taxi or just walk.

Halifax Transit
There are several ticket options to ride the bus, ferry and Access-A-Bus.  Tickets can be purchased in cash when you ride, at a retailer location, or you can purchase monthly bus passes.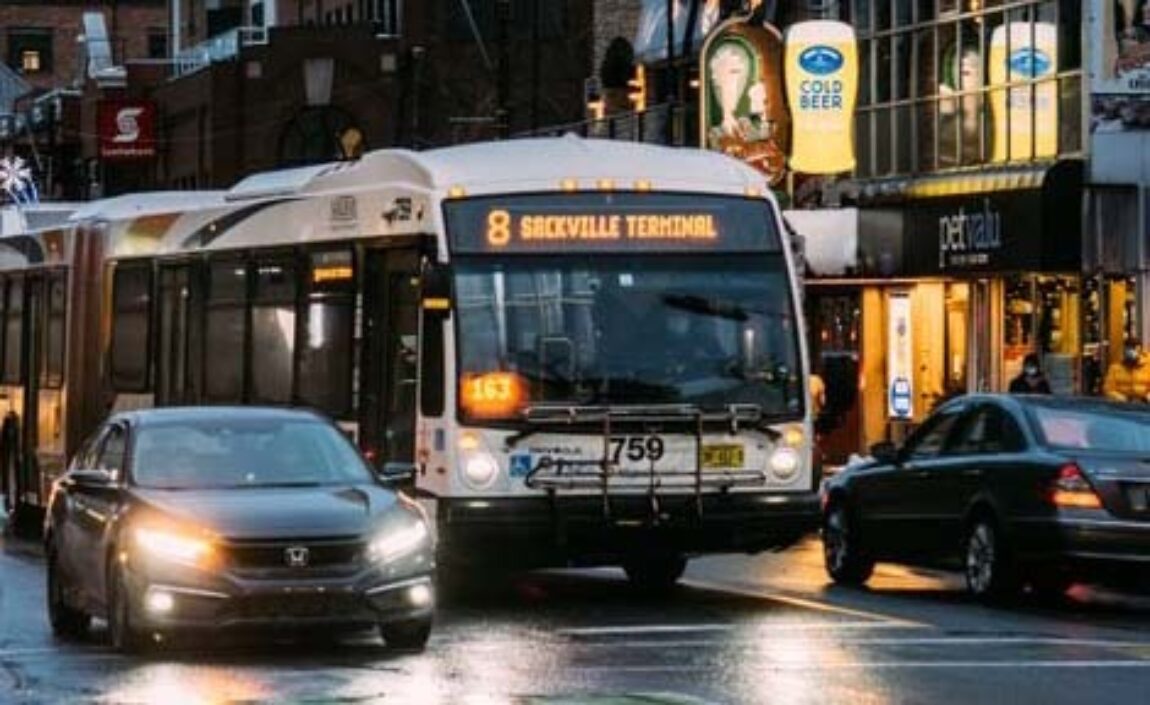 Buses

Halifax Transit is the name of our municipal public transportation system.
Take a look at their information for passengers where you can find advice on how to navigate the public transit system in Halifax, such as bus routes, schedules, maps, where to purchase transit passes or tickets, and much more.

Halifax Transit has several routes that travel locally as well as to suburban and outer areas in the city. Visit MetroX and MetroLink to find out about these services. Also, Halifax transit offers an Urban Express which provides a limited-stop service within the urban core so that you can make your commute on time.
If you are waiting at a Halifax Transit stop and have access to a phone, they have a Departures Time Line service that can give you information about when your next bus will come or if there are any unexpected delays.
Access-A-Bus

If you have any mobility impairment that would make using the bus or the ferry difficult, you can always connect with Access-A-Bus. This is a shared-ride, door-to-door public system funded by the Municipality to help persons with mobility issues to use Halifax's public transportation system.
Please note as well that:

All of Halifax's buses and ferries have Accessible Low Floor (ALF) models for people experiencing physical difficulties. These buses lower down to the curb, and can also secure wheelchairs.
Halifax Transit has many park and ride lots throughout the city. Park your car and ride the bus or ferry!
Ferry Service
The Harbour Ferry Service has two routes between downtown Halifax and Dartmouth. The ferry is wheel-chair friendly and connects to the bus and Access-A-Bus systems.
Halifax Transit Programs

Halifax Transit also offers different programs to make public transportation more accessible for folks with limited and/or low income, as well as for students and seniors.
It is also important to remember that, in Halifax, all refugees and asylum seekers are granted one year of free public transit, as well as access to all municipal recreation facilities and programs. There is also free access to some of the museums in Halifax as well as to the Canada Games Centre. If this is of interest for you, be sure to review the Welcomed in Halifax Program.
Take a cab
There are several taxi companies in Halifax. Look in the Yellow Pages to find the company that best serves your interests.
Need-A-Lift is a special taxi for people in wheelchairs. These taxis can carry four wheelchairs and five passengers.

Moving Forward Together
Halifax Transit is currently undergoing several changes.
You can keep updated about these changes and their numerous technology upgrades by visiting their portal; in addition to these updates, this portal includes helpful information, fun facts and stories to get to know better the ins and outs of our public transportation system.
Biking and walking in Halifax

If you prefer to bike or walk, or use any other means of transportation, it is a good idea to take a look at Halifax's information page; you will find there important tips, maps and other information that may help you make your trips safer and more enjoyable.
Remember that, by law, you must wear a helmet if you use a motorcycle, bicycle, scooter, skateboard or inline skates.
Bridges
There are two toll bridges connecting downtown Halifax and downtown Dartmouth
The A. Murray MacKay Bridge, usually called the "New Bridge"
The Angus L. Macdonald Bridge (usually called the "Old Bridge")
It costs $1 each time you cross the bridge. Walkers and cyclists can only use the Macdonald Bridge. You can also buy an electronic Macpass for convenience.
Learn About Education in Halifax
Halifax is a great place to study! If you're looking for schools and programs for your children, your loved ones, or for yourself, there are plenty of options for you to choose from.