About Halifax
Our Name
Our municipal or local government can be called Halifax, Halifax Regional Municipality or HRM. HRM consists of Dartmouth, Halifax, the former Halifax County and Bedford areas.
Halifax is organized in 16 Districts; you can learn more about them in the map District Boundaries.
Our History
This area is known as Mi'kma'ki, the Mi'kmaw people live and take care of this land, and have for more than 12,000 years. Halifax is in an area known by the Mi'kmaq as K'jipuktuk, meaning Great Harbour. This map shows the original lands of indigenous people in America.
European settlement in Halifax was established in 1749. Since the 1700s, there were a number of Peace and Friendship Treaties signed between the British Crown and the Mi'kmaq. It is important to keep in mind that, although Treaties were signed to share land and resources, these lands were never surrendered or ceded to the British settlers. In Halifax, we recognize that we stand on Mi'kmaw territory, and we are grateful to the Mi'kmaw people for sharing this land with us.
Immigration has a long history in Halifax. From 1928 to 1971, over one million immigrants came to Canada through Pier 21 in the Port of Halifax. Those immigrants who settled in this region contributed to make a richer and stronger culture.
What is Halifax today, the Halifax Regional Municipality, was born in 1996 when Halifax, Dartmouth, Bedford and the County of Halifax were integrated. The new city included around 200 communities and became the largest municipality in Atlantic Canada.
Today, Halifax is the most multicultural city in Nova Scotia. We are proud of the mix of cultures, languages and histories that help make this a truly international city!
Our Location
Halifax is the capital city of Nova Scotia. It is located on the East Coast of Canada on the Atlantic Ocean. Halifax is closer to Europe than many other North American cities by airplane. It is also closer to New York and Boston than any other major Canadian city.

This part of Canada is also referred to as The Maritimes. The Maritimes include three provinces: Nova Scotia, New Brunswick, and Prince Edward Island.
The East Coast of Canada is also called Atlantic Canada, which includes four provinces: Nova Scotia, New Brunswick, Prince Edward Island, and Newfoundland and Labrador.
Our Population
According to our last estimate, HRM has a population of 448,544 people.
HRM is home to about 46% of the people who live in Nova Scotia and about 85% of those who immigrate to the Province.
We have a long tradition of welcoming newcomers to Halifax!

Seasons
The weather in Halifax is very different during winter, spring, summer and fall. Halifax has warmer winters than the rest of Canada because of our proximity to the Atlantic Ocean.
Winter weather in HRM can have strong winds, heavy snowfall, freezing rain and cold temperatures. To keep safe and warm during the winter, it is important to:
Be prepared for all kinds of winter weather
Consider jackets with hoods than can keep your head dry. You will also want to wear a hat and gloves or mittens to keep warm your head and hands
Wear several layers of clothes to keep your body heat in
If you will be driving during the winter, make sure to get winter tires on your car
It is always a good idea to have an emergency kit in your car that includes a flashlight, a shovel, a blanket and booster cables
Check CBC Weather Centre for cancellations before going to school or work. You can also call the school cancellation number at 902-464-4636 or visit the Halifax Regional Centre for Education
For daily information on Halifax weather, visit the weather office online or call Environment Canada at 902-426-9090 or 1-800-668-6767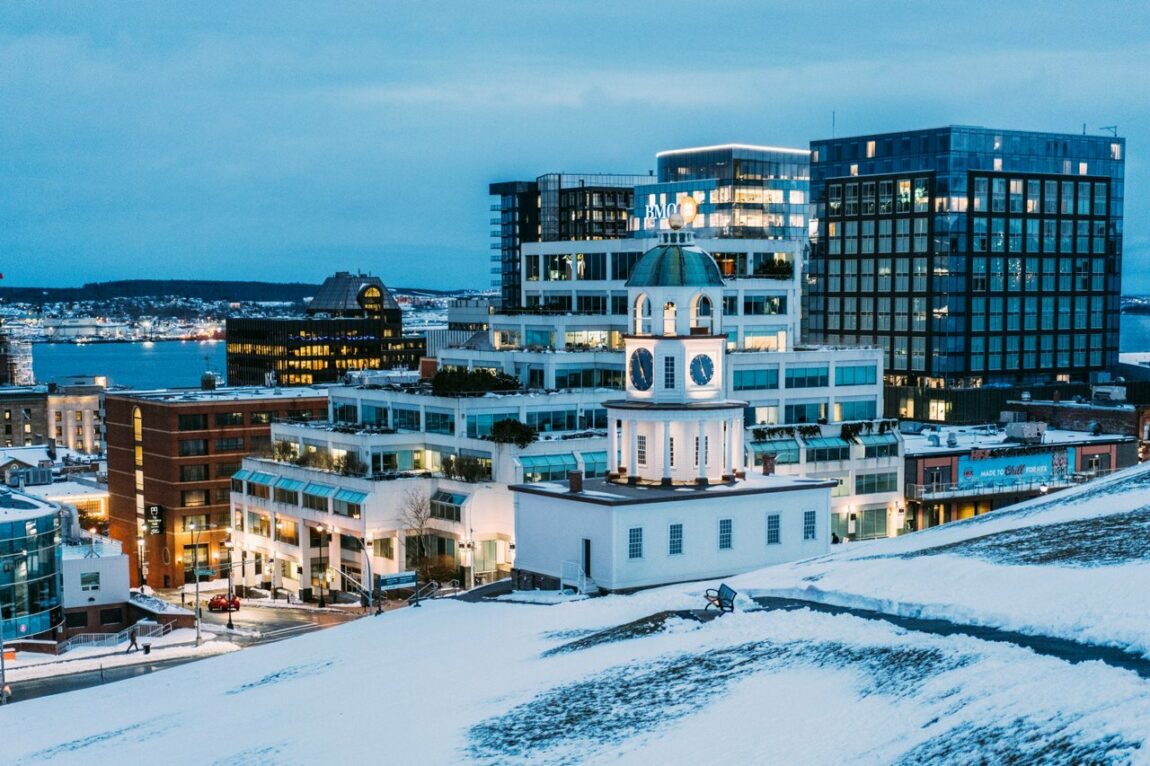 Government in Canada
Canada was founded in 1867 when the Queen of England signed the British North America Act.
Canada is a large country with 10 provinces, 3 territories and a population of more than 38 million people.
Canada's provinces are: Alberta, British Columbia, Manitoba, New Brunswick, Newfoundland and Labrador, Nova Scotia, Ontario, Prince Edward Island, Quebec and Saskatchewan.
Canada's territories are: Northwest Territories, Nunavut and Yukon.
Canada has a federal form of government. That means that each province or territory has its own government structure, which works with the federal government in Canada's capital: Ottawa, Ontario.
Canada is as well a Constitutional Monarchy. Our head of State is Her Majesty Queen Elizabeth II. The Queen lives in the United Kingdom and is represented in Canada by the Governor General and the Lieutenant Governors of each province, who perform royal duties on her behalf.
The head of government is an elected Prime Minister. Government in Canada follows the principles of parliamentary democracy, which include giving citizens the right to vote in elections by secret ballot.
The Canadian government is mandated to answer to its citizens and can be changed by the people. Every citizen has the freedom to participate in political and social activities to build their communities and shape their nation.
There are three levels of government in Canada, each level looking over different areas.
The Federal Government looks after the country of Canada. It is constituted by elected representatives from every province across the country. The Prime Minister is the head of the federal government. The Federal Government is responsible for issues that affect Canada as a whole, such as national defence, citizenship and immigration, criminal law and banking, etc.
Provincial and Territorial Governments look after each Canadian province and each of Canada's three territories. Provincial and territorial governments are responsible for issues such as social security, health care, education, and provincial highways. Nova Scotia's Provincial Government is constituted by 52 elected representatives from across the province. The Premier is the head of the provincial government.
The Municipal Government in Halifax is constituted by elected representatives for the 16 districts across HRM. There are 16 Councillors, one for each district, and they are all led by one Mayor. Municipal governments are responsible for services to residents such as police, fire, roads, public transit, garbage collection, snow removal, and parks and recreation. To learn more about the way in which government works in HRM, you can visit Halifax's Government Page, where you can find more information about who is the Councillor for your District, or more about Regional Council and the Mayor's Office. Halifax Regional Council meets on Tuesdays at Halifax City Hall, 3rd floor, Council Chambers (1841 Argyle Street, Halifax). All meetings are open to the public and are broadcasted live on Eastlink Channel 10, or online at Haligonia.ca.
Making a call
The area code to make a call in Halifax or in other parts of Nova Scotia is 902.
To make a long-distance phone call inside Canada, dial 1 and then the area code before the number.
Dial 011 and then the area code to make an international call.
Halifax Customer Service
Call Centre (311)
311 is the direct line to municipal services and information, from Civic Events or Construction information to Requests of streets and sidewalk maintenance.
You can call 311 toll-free from anywhere within HRM. Their agents are there to provide you with a wide variety of municipal information and services in over 150 languages using a telephone interpretation service.
Hours of operation:
Closed on Christmas and New Year's Day
11 p.m. to 7 a.m. after-hour urgent service
Requests for Transportation, Municipal Operations, Facilities, Animal Services, Waste Water Services and Illegally Parked Vehicles
Customer Service Centres provide a "one stop" access to municipal services.
You can make: Tax payments; residential and commercial property taxes; business occupancy taxes; parking tickets; water bill payments; Metro Transit bus tickets; development, planning and engineering permits
You can find information on: Council agendas and minutes; HRM by-laws; job opportunities; recreation programs; Metro Transit schedules and maps; tourism brochures; waste collection; recycling information
You can apply for: pesticide by-law/registration; marriage licences; dog licences; property tax rebate deferrals; grant programs; alarm permits; residential parking permits
Nova Scotia Customer Service
Call Centre (211)
211 is a free, confidential information and referral service to help Nova Scotians navigate the more than 4000 community and social services available in the Province. They offer valuable and up-to-date information on health, community and social services anywhere in Nova Scotia.
When you dial 2-1-1, trained information and referral specialists will help you find and understand services like:
Credit counseling
Emergency shelters
Food banks
Housing assistance
Home care
Mental health/addiction services
Recreational programs
Services available for people with disabilities
Services available for seniors
Tax service
Tuition assistance
Their services are available 24 hours a day, seven days a week, and they are available in English and French and for the hearing impaired. There are also interpretation services available in over 100 languages.